From the owner, George Davis:
The purpose of this web-site is to introduce a unique and often needed repair business to you. My name is George Davis. My son Ben and I specialize in barn repair of all types. If you would like to restore your heirloom or repair your working barn, most likelywe can fix it.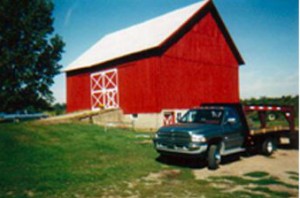 If your barn or outbuilding has begun to list or lean due to an eroding or sinking foundation, or from high winds, we can straighten it up. If your building is spreading apart and, or the roof structure is beginning to sink we can return it to near original position and hold it in place to keep it from further deterioration.
We repair existing damaged metal roofs. We try to match as close as possible the existing rib pattern to keep the roof appearance as close to original as possible. We install new metal roofs from galvanized in a variety of colors.
We install new oak floors for hay mows and drive-floors. If you have floor timbers that are rotted or bug infested we can replace them in any size you need. We replace or repair support posts and footings and upper structure beams that are rotten or broken.
We build the old-fashioned looking slider doors with the X cross buck appearance and install new track and trolleys. We also repair or replace wood siding with the original looking rough-sawn pine lumber, or if you prefer, we can install new steel siding with many colors available.
We paint sidewalls any color you desire, and if your metal roof is rusty, we can paint it with an asphalt-based aluminum paint.
Last, but not least, we repair or replace foundations. We re-lay fallen stone foundation walls if you want to keep the original walls, or they can be replaced with cement block.
We work with insurance companies in the event of wind damage or other unexpected damage to a structure.
Our work is backed by many years of experience. My Father-in-law started this business 50 years ago by painting barn roofs and with his engineering mind began to straighten and repair barns. We began working with him almost 20 years ago and though he has now gone to be with the Lord, His knowledge and experience has been passed down through three generations.
We look forward to hearing from you and working with you.